364 Boston Turnpike Road
Shrewsbury, MA 0545
(508) 425-3300
Other mobile locations Massachusetts, New Hampshire and New York: Acton, Amherst, E.Harwich, Framingham, Holland, Orleans, Petersham, Sandwich, Shrewsbury, Sudbury, Waltham,
W. Bridgewater, Portsmouth N.H., Londonderry N.H., Chatham N.Y.
Digital Infrared Thermal Imaging (D.I.T.I.) has the opportunity to detect breast changes or disease at any stage in the development from the first year through to when a tumor is dense enough to be seen with mammography. This early detection of change can lead to earlier diagnosis and better treatment options as well as the opportunity for patients and their healthcare practitioners to intervene at an early stage. As part of a woman's annual health screening, it is safe for women of all ages. It is particularly useful for women who tend to have dense breast tissue or larger breasts. It is effective for women who have undergone mastectomy, have implants, or have had surgical reductions of the breast. Breast thermography is able to screen hard to reach areas such as arm pits and upper chest area. Once a breast baseline image is established, Thermologists will be able to detect physiological changes over time.
Your Visit
This simple test is painless, safe, and easy.
The patient is welcomed to the practice. The patient provides intake questionnaires that have been completed at home.
The next step is for the patient to disrobe and put on a light-weight gown. This allows for the body to acclimatize to the ambient temperature of the room before imaging begins. Patient information relating to symptoms and history is taken. The test is just like having your photograph taken, a thermographer focuses the scanner and takes an image. Thermography breast screening includes 5 images: one front view, two side views, and two oblique views. These views cover the entire chest, underarm and lymph areas. All scans are done in complete privacy and take approximately 30 minutes.

Together

We Can Make A Difference
Breast thermography is one of the best early warning screenings available today.The earlier a dysfunction is detected whether due to hormone imbalances, lymph congestion, nerve impingement, nutrition, lifestyle, or other factor the sooner we can address the situation and provide options that improve outcomes.
Breast Health
Foresee the Future, Change the Outcome
* SAFE * PAINLESS * AFFORDABLE * NO RADIATION
Images are saved onto the computer to be sent electronically to a doctor, MD, for interpretation and reporting. Your report will contain useful information relating to your physiological status (or function of the body). The interpretting doctor will identify any significant findings that relate to your symptoms and history and give an opinion that will help your treating doctor or healthcare practitioner.

Two screenings, 3 months apart, establish an initial thermal baseline. This baseline is used for all future analysis. The key to annual breast health screening is to monitor for change over time.

No Radiation or Compression

Earliest Detection

Monitors Breast Health Over Time

Be Proactive - Call Now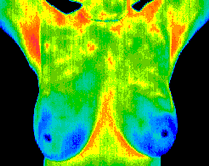 Suspicious Vascular Pattern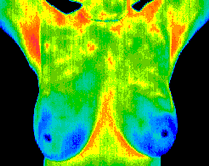 Affordable Pricing includes scan, interpretation by MD and copies of report
Breast Scan or Region of Interest
Breast Thermogaphy for Prevention